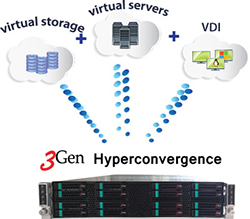 3Gen vServer Fault Tolerance delivers 24X7 continuous availability
Provides zero-downtime, zero-data loss, continuous availability for any application, without the cost or complexity of traditional solutions.
Delivers uninterrupted service with simplicity and low cost
Fault-Tolerance Solution works with existing 3Gen HCI platform. Any virtual client can activate fault tolerance protection by enabling software license key.
Industry standard x86 system support with unlimited number of virtual CPU cores
3Gen Fault Tolerance Solution is a purpose-built and enterprise-ready solution with automated monitoring and self-tuning algorithm to ensure continuous, uninterrupted operation.
Low TCO via industry-standard infrastructure with flexible storage options
Supports all standard internal storage options including all-flash, SAS and SATA hard disks. Supports all external storage options including JBOD, FC and network storage.
2X faster performance than other competitive products
3Gen proprietary distributed block-based virtualization technology incorporates the latest 3Gen I/O technologies to provide 2X faster performance than other competitor's file-based virtualization solution.
Lock tight security for all IT data and assets
Best in class security incorporated into every step of the product lifecycle from development to deployment and operation
Simple and Speedy installation and support via 3Gen Worldwide Support and Global trained partners
Best-in-class support team handles the installation and support throughout the life of the product.