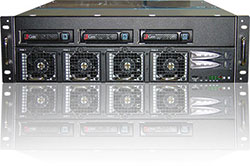 SAN Storage Gateway-maximum connectivity and performance
Dual Xeon Quad Core with 16GB Dedicated ECC DDR3 Memory supports up to 40 latest Fibre Channel ports and/or High performance Ethernet ports.
Multi-Node support for maximum performance and failover protection
Unlimited scalability on computing power and storage capacity
Robust performance that meet rigorous application demands
Outstanding file-based and transaction based performance with high bandwidth, 64-bit architecture, and the latest I/O technologies.
Comprehensive software suite
Designed to provide robust system management, dynamic thin-provisioning, real time block based data de-duplication, active-active clustering, cloning services, virtualization technologies, disaster recovery and backup capabilities across all SAN resources.
Heterogeneous unified storage environment
Integrated architecture to support concurrent block I/O and file serving over Ethernet and Fibre Channel SAN infrastructures, helping to optimize investment protection and ROI
Storage consolidation
Designed to enable organizations to consolidate UNIX, Linux, Windows and Web Workloads with existing SAN storage.
Hybrid Storage Support
Support NVMe, SATA, SAS, and all standard HDD and SDD formats simultaneously within one single 3Gen storage system.